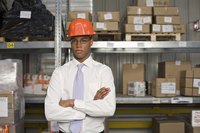 Business clusters are geographic concentrations of organizations that operate in the same marketplace. Clusters typically include manufacturers, suppliers, service providers, business partners and other members of the supply or distribution chain. They also may include universities or research institutes. Business clusters are common in industries such as automotive, information technology, aerospace, defense and life sciences. The U.S. Small Business Administration operates the Clusters Initiative, a program designed to promote clustering and communicate its advantages.
Collaboration and Networking Opportunities
Geographical proximity makes it easier for organizations to collaborate on projects such as new product development or cost reduction programs. A manufacturer and supplier, for example, might collaborate on a critical component that reduces costs and improves performance. Manufacturers might work in joint ventures with business partners that can provide specialist products or services. Collaboration like this can provide mutual benefits for many members of the business cluster.
Cost and Productivity Gains
Supply chain integration is an important benefit for businesses in a cluster. Clusters can raise companies' productivity through the proximity of local assets and the presence of like firms and infrastructure that surround them. Proximity to delivery destinations enables suppliers to operate just-in-time delivery, reduce lead times and lower distribution costs.
High Levels of Innovation
Business clusters feature a high concentration of knowledge in a single location, which can affect the level of innovation. Universities can support business innovation through expert research and consultancy, or with knowledge transfer programs that enable companies to commercialize new technologies developed by academics. Business clusters also encourage new startups with innovative products, offering them access to markets. Clusters may offer incubation centers to new businesses, providing them with low-cost accommodation, access to essential business services and great networking opportunities.
Mutual Support
Businesses in a cluster provide high levels of support to each other. Clusters may form as large companies attract suppliers and other providers. A cluster of small businesses tend to attract more small businesses providing support services such as recruitment agencies, marketing firms, investment companies and real estate firms.
Business Success
Research by the SBA indicates that clusters help businesses improve performance. The key benefits include an increase in employment and revenue among participating businesses. Small businesses typically find that participation in a cluster resulted in greater participation in their industry supply chain. Many companies demonstrate the innovation benefits of clusters by citing the number of patents filed or granted.