A blazer is one of the most versatile garments that a man has in his closet. Casual yet sophisticated, a blazer or sport coat can go with almost anything, whether it's a pair of ripped jeans or expensive chinos, but coordinating a blazer with the proper dress shirt can be more of a challenge.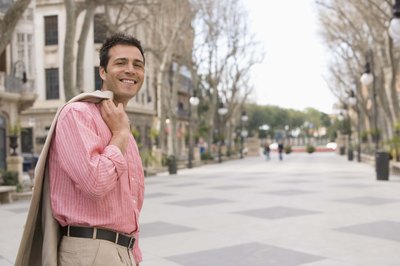 Traditional Colors
Traditional colors for a blazer are black, brown and various shades of blue and gray. When choosing a dress shirt, keep contrasts in mind. Light or pale solid colors such as blues or yellows will work well with most any of the traditional blazer colors. So will patterned shirts; pinstripes, checkered designs and plaids will look great with solid blazer colors, as long as they are complementary colors. Dark shades of traditional blazer colors will make patterns stand out even more. As for a black blazer, that goes with everything and is probably the safest bet no matter which shirt you choose.
Bold Colors
Blazers that don't fit into the traditional categories have bigger challenges. Reds, greens, whites and pinks are all bold statements for a blazer, and offer fewer options when pairing with a proper dress shirt. White shirts are the safest bet with any of these colors, but choosing a lighter shade of the matching color of your blazer is also a safe option. Contrast is also at work here, but make it subtle; a purple blazer with a blue shirt offers plenty of contrast, but can also end up being over-the-top and garish, depending on shades.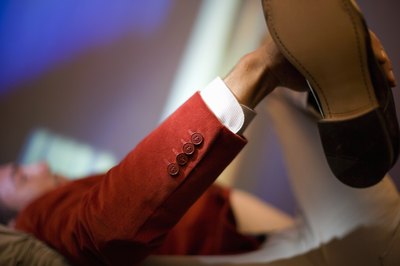 Patterned Blazers
Much like the dress shirts, blazers can offer eye-catching patterns that will complete an outfit with smart style. Pinstripes are elegant and clean. Blazers of tweed or houndstooth are a well-defined and time-honored look that can be pulled off if the right dress shirt complements the whole package. Solid, muted shades of color are proper for most patterned blazers without seeming too busy. Patterned shirts are where you need to tread lightly, or else the elements of your outfit will begin to clash with one another. Choose one pattern over another to take center stage. If the shirt has a dark plaid, then select a blazer with very thin pinstripes or a subdued wool pattern, letting one pattern dominate over the other.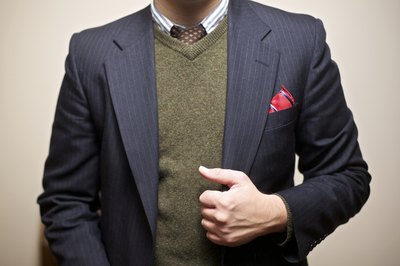 The White Dress Shirt
Much like the black blazer that will go everything, the white dress shirt is your safety net, your backup plan, and old standby all in one. White dress shirts are simply the best accessory for any blazer you want to wear. Brown or camel blazers look fantastic with white shirts, and white shirts also add charm and class to pinstripes. When in doubt over what color shirt to pair with any color or pattern of blazer, you can never go wrong with white.