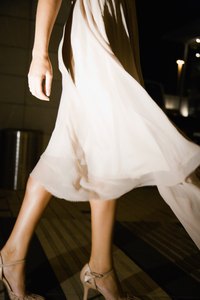 Tan high heels are like a little black dress -- they go with everything. Regardless of what look you're going for, from elegant to funky, your shoes will help pull it together. The neutral color of tan shoes sets off any outfit, so don't be afraid of wearing bright colors or patterns. Wear outfits that allow you to show off your heels because the height helps lengthen your legs and create a lean look.
With Dresses
A dress in neutral shades of beige worn with tan high heels creates a simple, feminine look. Go for different shades of beige between your dress and shoes that don't match your skin tone to avoid a monochromatic look that might wash you out. If you want to make a bolder statement, pair your heels with a brightly colored print dress because the shoes won't distract from the drama of the dress. A navy sheath dress with tan pumps creates a professional look suitable for the office without being boring.
With Skirts
Tan high heels complement every type of skirt, from a classic pencil skirt to a flouncy mini skirt. Wear your hem length at or above your knee to take advantage of the length the heels will give your legs. A simple A-line skirt in any color, paired with tan high-heeled Mary Jane pumps, is a look that goes from the office to dinner easily with the addition of sparkly accessories. Fancy sandals with a casual denim skirt and a bright top is a fresh, young look.
With Pants
For a spare and simple look, wear tailored black pants with a simple blouse and tan heels. To show off your shoes, pair them with skinny jeans or cropped pants, and wear a simple top, such as a t-shirt. A silk shirt with a gauzy scarf knotted around your neck, worn over a pair of cargo cropped pants and high-heeled strappy sandals, is an outfit ready to take you from the market to happy hour with friends.
With Shorts
Tailored dress shorts worn with a sweater set and high-heeled pumps creates an elegant look. Dressy shorts in a length just above your knee, paired with a button-up shirt, blazer, and pumps, is a stylish look for the office. For casual fun, top a pair of cargo shorts with a t-shirt and blazer, and wear with a pair of high platform sandals. A piece of statement jewelry will complete the look.