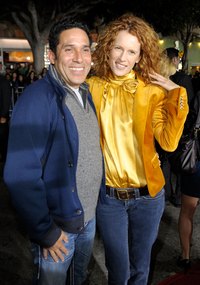 Picking the right outfit for a date in cold weather can cause panic in the calmest person. Ask your dining companion about the setting and any other date activities before choosing an outfit. Dressing in layers constructs a put-together look for both men and women and holds in warmth. Before you purchase something new, check your closet, as many spring and summer pieces can transform into winter attire suitable for a date. Dressing fashionably in cold weather does not mean you have to freeze. Accessorize with hats, scarves and gloves in winter weather.
Men
Layering a tailored wool jacket or sports coat with a button-down shirt in a neutral tone or pattern gives a polished look. The jacket can be paired with a knit v-neck, collared shirt and dark blue or black jeans. Men can replace the collared shirt with a turtleneck or highlight the shirt color with a pair of gray or tan jeans. A pair of dark slacks or khakis are more appropriate than jeans for more formal dinner dates. Black or brown loafers or military-style boots finish the ensemble. A tie is unnecessary for a dinner date, unless it is required by the restaurant.
Women
Women can look chic, but not chunky by limiting layers to three. A structured wool coat or jacket over a cardigan and fitted top works well in cold weather. The bottom portion of the ensemble will appear slender with a pair of tapered or boot-cut slacks or jeans. An A-line skirt also works well with thick leggings and boots. Colorful pieces bring out personal style, such as a brightly-colored cardigan to add flair. Low-cut shirts and too-short skirts are inappropriate for cold weather. High heels or new shoes will be regretted when the date calls for walking; snow and ice require a thick, nonskid sole. Low-heeled pump are best for formal dinner dates and a pair of loafers or cute sneakers work for more casual occasions.
Accessories
Cold weather scarves, gloves and overcoats in bold hues add pizzazz to formal or casual outfits. Wide, clunky chokers give a long neck a slender, graceful appearance; thin-chained pendants extending no less than two inches beneath the collarbone give a v-neck look, which lengthens short necks. A bold brooch complemented with a subtle piece such as a pair of small hoop earrings or a simple bracelet add balance to a covered-up cold weather outfit. A quality watch and one thin chain or bracelet works well for men.
Grooming
Personal appearance involves more than choosing the right clothes; grooming and personal hygiene add the final touch to the perfect outfit. Clean hair and neatly trimmed nails make a good first impression. Blue, black and gray fingernail polish complements almost any winter garment, but women who do not like bold colors can wear neutral shades of pink, white or nude nail gloss. Neutral lip colors work well for casual or formal dinner dates and bolder shades for a night of dinner and dancing. Strong perfumes and colognes are unsuitable for dinner dates; light scents or no scent works best.