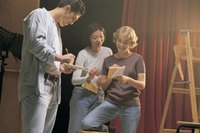 According to the Bureau of Labor Statistics, most actors don't receive guaranteed work that lasts longer than three to six months. It's necessary for actors to make money in other ways, but that work must be flexible. Actors need to attend auditions, often on short notice, to win roles. Actors take on a variety of additional jobs to pay the rent between gigs.
Acting-Related Jobs
Actors can take jobs related to their profession. You can teach acting, through private institutions or as a teacher in the public school system. You can also be self-employed as an acting or voice coach to a cadre of clients. You can also take on behind-the-scenes work, as the director of a play or an independent production. Some of these roles require specialized training, education or contacts within the industry to secure.
Creative Jobs
Actors can take fee- and client-based work in a variety of creative mediums. Interior design and photography are suitable if you have a home-decor touch or a talent for event picture taking; photographers take pictures of weddings and special occasions. Graphic design, freelance writing and event planning are possibilities if you have the skills necessary to complete the work and impress a customer base.
Office Work
Full-time, permanent office work is out of the question for most actors because of the lack of flexibility. However, temporary work in a business setting is possible. A temp agency can test your clerical and administrative skills to determine if you are a match for jobs. The agency will charge a fee from the client for your time spent at the business. If your schedule is particularly unpredictable, you can request jobs that are expected to last only one or a few days.
Technical Occupations
If you are skilled with computer programming or have other technical knowledge, Web-based work is available. You can develop websites with search engine optimized content for small businesses and offer the business advice to improve its Internet presence. If you have other scientific skills, you can secure a research assistant job with a professor at a local college or university.
Service Industry
Typically, struggling actors have taken jobs in the food and restaurant industry to make ends meet. You can still get a job as a server or a bartender while you're looking for work. The evening schedule generally works with potential audition times, and you often earn tips beyond base pay.