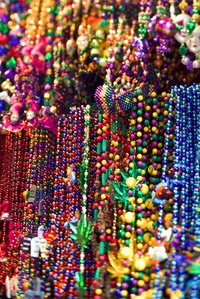 Mardi Gras is a period of celebration before the austere Christian season of Lent. The festivities typically involve parades where riders on the floats throw beads and trinkets to the crowd, indulge in special foods and attend elaborate masquerade balls. If your prom is Mardi Gras-themed, get into the spirit with some elaborate and fun hair and makeup looks incorporating traditional Mardi Gras elements.
Makeup Mask
Creating a mask out of makeup is an elegant version of face paint and makes a substantial impact. To get the look, dot eyeliner on your face to outline the boundaries of the mask. Use dark colors for a dramatic look or lighter hues for a delicate mask. Use cream eye shadow to fill in the mask and experiment with different colors and gradients for a 3-D look. Finish by dusting the mask with glitter for added drama.
Mardi Gras Eyes
The traditional colors of Mardi Gras are purple, gold and green. Although a little much for day-to-day wear, this dramatic combination would be perfect for a Mardi Gras prom look. Prime your eyelids with an eyeshadow primer to help the colors stay in place. Begin by dusting a purple eyeshadow at the outer corner of your eye, fading it inward toward your nose. Add a bar of green in the center of the lid and finish with a metallic gold around your tear duct to brighten your eyes.
Glitter Lips
Emphasizing your lips with sparkling color is an elegant way to make a big impact. To get the look, you need lip liner, lipstick and glitter in a matching shade. Buy beauty-grade and not typical craft glitter, which can be toxic or harsh to wear. To create the look, line your lips and fill them in with the lip liner to create a base for the lipstick. Use a lipstick brush to apply the lipstick for precise application. Dip a flat-tipped makeup brush into false eyelash glue and then glitter, dabbing it carefully onto your lips. Finish with a spray of makeup sealant and keep some extra glitter in your bag for touch-ups.
Mardi Gras Hair
Continue the over-the-top theme of Mardi Gras by decorating your up-do with traditional Mardi Gras symbols. Beads are iconic symbols of the parades and can be easily worn as a headband or hot-glued onto hair pins. Stick a few feathers in purple, gold and green into the back of a bun for a vintage look or glue small masks to hairpins and use them to adorn a looser style.