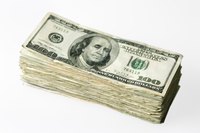 When it comes to accounting, liquidity is all about how quickly a company can convert assets to cash in order to handle expenses that could either be immediate or anticipated down the road. Liquidity is a term to describe how able a company is to pay its debts, or the ease at which that company can convert its assets to cash in order to handle operating expenses.
Current Ratio
One common way to measure liquidity in accounting is the current ratio, which signals how able a company is to meet it's short-term debt. The higher the ratio the better. Current ratio is equal to current assets divided by current liabilities. When current assets are more than twice liabilities, the company has good liquidity from an accounting standpoint. If the company has more liabilities than assets, it is liable to have a liquidity crisis that makes it unable to pay the bills. A current ratio of 1.25 to 1, for instance, would mean the company is in a strong liquid position.
Quick Ratio
Quick ratio is often referred to as the acid-test ratio. The quick ratio is determined by subtracting inventories from current assets and then dividing by current liabilities. A higher number means the company is strong. Lower numbers indicates the company is in a weaker financial position. A quick ratio of 1 or more is typically the benchmark used by most lending institutions as a measure of a company having good financial strength.
Operating Cash Flow
Operating cash flow is another important measurement of liquidity used in accounting. It is the cash a company generates from operating its business. Other names used for operating cash flow include "cash flow from operating activities," and "cash flow provided by operations." Operating cash flow is calculated by subtracting operating expenses from total revenues. Companies disclose figures for operating cash flow on their statement of cash flows.
Cash
When it comes to liquidity in accounting, cash is king. Liquidity comes down to how fast an asset can be converted to cash without taking a loss in value. Cash in the bank and cash in hand are as liquid as it gets.