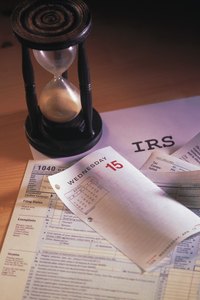 The Internal Revenue Service offers a number of tax benefits to pension plans to encourage their use as retirement accounts. If you need to cash in your pension benefit before retirement, the government charges several tax penalties on the withdrawal, including Massachusetts state income tax if you live in that state. Your company may also have several plan restrictions limiting your access to your pension benefit.
Access
The majority of companies do not allow their employees to access their pension benefits while they are employed. This gives a company more time to invest the pension funds and have better control over account distributions. You are most likely not allowed to cash in your pension benefit unless you have retired, quit your job or were fired. Some pensions never allow a lump-sum withdrawal from the plan and only pay out a lifetime annual benefit during retirement. Ask your pension's plan administrator about your plan's distribution rules to determine your access to your pension benefit.
Vesting
One of the reasons a company offers a pension plan is to reduce employee turnover. A business owner does not want to offer retirement benefits to short-term employees. To accomplish this goal, companies design pensions with a benefit timeline, known as a vesting schedule. You must work a specific number of years at your company to earn your entire pension benefit. If you leave early, you forfeit some or all of your benefit, depending on the plan's vesting schedule. When you leave work to cash in your pension, you may lose some of your benefit through a vesting penalty.
Taxation
The main advantage of pension plans is their tax-deferred growth. You do not pay income tax on your pension benefit until you take withdrawals from the plan. This taxation is usually spread out over lifetime payments during retirement. When you cash in your pension benefit as a lump-sum payment, you owe income tax on the entire withdrawal. You cannot spread the taxation over several years. You must report the entire withdrawal as income for both your federal taxes and your Massachusetts state taxes.
Early Withdrawal Penalty
A pension is designed to be a retirement account. The IRS discourages withdrawals from a pension plan before retirement. If you cash in your pension plan before you turn 59 1/2, the IRS considers your withdrawal an early withdrawal. The IRS charges a 10 percent penalty on top of income taxes on early withdrawals. State governments do not charge an early withdrawal penalty, but you still need to pay state income tax to Massachusetts on your early pension withdrawal.