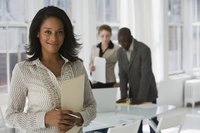 Job satisfaction -- a key factor for employee productivity and business growth -- is a frequently studied subject across the disciplines of psychology, sociology, economics and management sciences. A Eurofound study, "Measuring Job Satisfaction in Surveys," found that the degree of perceived workforce autonomy is often the most important and positive predictor of job satisfaction. Autonomy can conceptually enhance four different aspects of job satisfaction -- commitment, involvement, performance and motivation in the workplace.
Facets of Autonomy
Studies have recognized three types of job autonomy that can positively influence job satisfaction -- work method, work scheduling and work criteria.
Work method autonomy refers to the degree of freedom that workers have in going about their work, such as the kind of spreadsheet software an employee prefers to use. Work scheduling autonomy refers to the level of control employees have in scheduling, sequencing or timing their work activities, such as a choice of working from home versus workplace attendance. Work criteria autonomy indicates the degree to which workers can chose to modify the standards used for evaluating performance. For instance, employees can chose whether "deadlines" or "accuracy" better explain their work performances.
Commitment
An employee with a degree of freedom in the workplace is more likely to stay committed to the organization. Commitment -- also referred to as organizational citizenship behavior -- binds an employee to an organization, thereby reducing the likelihood of work turnover. A committed employee is more likely to find organizational interests as personally meaningful, and perceive organizational well-being as a measure of his own job satisfaction.
Motivation
While commitment binds employees to an organization, motivation is an energizing force that induces action in employees. Autonomy in the workplace tends to improve employee motivation to accomplish assigned tasks. At the heart of the motivation process is goal setting. Motivated employees proactively set goals for themselves in the workplace, and this sense of autonomy is likely to enhance their job satisfaction.
Involvement
Job involvement may seem similar to job motivation. Conceptually, job involvement isn't just the energizing force to finish assigned tasks; it is the degree to which a person identifies psychologically with his work, or the importance of work in his total self-image. Job involvement refers to self-identity and the feeling of self-worth. Job autonomy correlates positively with the employee involvement. An employee with a degree of freedom is more likely to internalize his working life, perceive his job as an element of his overall identity and earn a higher level of job satisfaction.
Performance
It is a widely accepted concept in work management studies, including the Eurofound paper, that workplace autonomy enhances performance and productivity. More evident in marketing and sales but applicable to all careers and fields is the fact that performance is often a significant predictor of a company's evaluation of an employee. The greater the autonomy, the higher the work performance -- and the higher the job comfort and confidence. This perceived sense of job security and potential for job growth among employees results in greater job satisfaction.