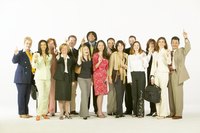 Workplaces are more diverse than ever before, with companies hiring top talent from other nations and implementing greater gender diversity. Many organizations benefit from workplace diversity, but the possibility of challenges exists. Managers must understand how to manage diverse employees and create an environment that welcomes diversity. Leaders who fail to properly manage diversity within the organization may experience conflict in the workplace.
Understand Discrimination
Managers supervising diverse employees need to understand discrimination laws and the consequences for violating them. Understanding discrimination laws can prevent the company from operating in a discriminatory manner. Discrimination laws prevent employers from making workplace decisions based on race, gender, sexual orientation, religion, national origin and age.
Identify Own Biases
Managers should identify their own biases before addressing the biases of others. This helps managers understand the misconceptions regarding diversity that are easily maintained in the workplace. According to information written on the University of Florida's website by Kelli A. Green, employers should bring to light the biases held by managers and employees.
Provide Diversity Training
After biases are identified, organizations should hold diversity training sessions. Companies can use training sessions to reinforce the organization's diversity policies. With proper diversity training, employees learn how to deal with the challenges that accompany diversity in the workplace.
Create an Empowered Environment
Managers should create an environment that empowers diverse employees and allows them to feel like a part of the team. Appreciating the contributions of diverse employees can build morale and encourage employees.
Provide Orientation for New Employees
Orientation provided for new employees should make diverse employees feel welcomed. Orientation leaders should make it a point to talk about the company's diversity policies and address any questions, issues or concerns.
Create Adequate Job Descriptions
To make managing diverse employees easier, companies should include in their job descriptions that employees must possess the ability to work well in diverse organizations. During the interview process, managers can determine an individual's ability to handle workplace diversity challenges and attempt to determine any biases the job candidate may possess. Employees who understand the importance of diversity are easier to manage than those who do not understand.
Team Building
To build trust among employees, managers can implement team building exercises. For example, a manager can allow employees to share a brief, interesting story before a meeting. Diverse employees get a chance to talk about something unique to them, which allows all employees to gain a greater appreciation for diversity.
Open Communication
Create an atmosphere where employees can express their concerns. Equally value the concerns of all employees as to not make one group of employees feel as if their opinions and ideas are not important.
Mentorship
To help diverse employees adjust in the workplace, managers can set up a mentoring program that places diverse employees with senior employees. According to Larry Ambrose of American College of Health Executives, companies should establish structured mentoring programs that define goals, involve top leadership, and match mentors and diverse employees who are different than one another.
Set Up Policies for Conflict
Possibilities for conflict exist in diverse workplaces. Organizations should have policies in place to deal with issues regarding diversity. Managers should deal accordingly with employees who knowingly violate company policies.