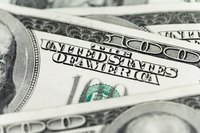 If you regularly pay out-of-pocket medical expenses, you might consider opening a flexible spending account (FSA). Flexible spending arrangements may be offered as part of your employer's health care package and are typically funded through a payroll deduction. When you incur out-of-pocket health care expenses, your employer will reimburse you using funds in your flexible spending account. There are several advantages and disadvantages associated with contributing to a flexible spending account.
Taxable Income Reduction
The primary advantage associated with flexible spending arrangements is the potential tax benefit they offer to users. Contributions to an FSA are made with pre-tax dollars, which means you do not pay federal or Society Security tax on these funds. Making regular contributions to a flexible spending account may actually increase your net take-home pay and reduce what you owe at tax time. Withdrawals from a flexible spending arrangement are also tax free if distributions are used to pay qualified medical expenses. As of 2010, the IRS allows you to use money in an FSA to pay medical expenses for yourself, your spouse, a qualified dependent or a child under the age of 27.
Covered Expenses
Flexible spending accounts are also beneficial in that distributions may be used to cover a wide range of expenses. Depending on your employer's plan, you may be able to use FSA money for co-pays, deductibles, certain prescriptions, orthodontic procedures, laser eye surgery, cosmetic surgery, cosmetic dental work, glasses or contact lenses, and dependent care expenses for a child under the age of 13, including daycare, summer camp fees or preschool tuition. You must meet specific IRS requirements in order to use FSA funds for dependent care expenses.
Limitations on Use
The primary disadvantage of flexible spending arrangements is that you are limited as to the amount of time you have to use the funds. The IRS qualifies FSAs as "use-it-or-lose-it," meaning that if you do not withdraw all funds in the account prior to the end of the coverage year, you lose any remaining balance. The IRS prohibits employers from refunding any part of unused FSA funds unless the plan specifically provides for a grace period. If you overestimate your annual contribution, you cannot change your plan elections unless you experience a significant life change, such as marriage, divorce or the birth of a child.
Reduction of Future Benefits
Flexible spending accounts also offer another potential disadvantage in that contributions may affect your future Social Security benefits. According to New York Life, workers who earn less than Social Security's maximum taxable amount are more likely to be affected. Since contributions to an FSA are made with pre-tax money, the amount of taxable wages reported to the Social Security Administration is reduced. When determining whether you should contribute to an FSA, you should consider whether the money you can save in the present outweighs the potential loss of future benefits.