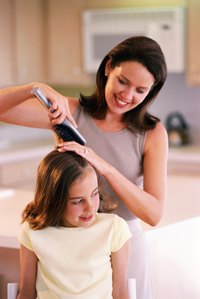 Preparing for a middle school dance can create a state of frenzy for most girls. There are many decisions to make, including what to wear, how to accessorize and which hairstyle will be best for their big night. This process is also stressful for parents, who must monitor and guide these decisions to ensure they are appropriate for a girl between 10 and 13 years old. Having a list of suggestions to give your child can greatly assist in this process.
Simple Ponytail
The ponytail is a classic look that is both appropriate for all ages and fairly uncomplicated. Children can typically execute this look themselves, which is not only a self-esteem booster but also a time-saver. There are many styles of ponytails such as the high ponytail, the low ponytail gathered at the base of the neck or pigtails for younger girls. You can also add a headband, hair-clip, or ribbon to this look for added flair.
Braid
Kick the ponytail up a notch by adding a braid. Choose between a basic braid or French braid, and for a more intricate style, weave a ribbon through the braid or add a hair-clip or headband. Older girls can add sophistication to the braid by brushing out or curling tendrils around the face, while pigtail braids are an option for younger girls.
Simple Blow-dry
A solution for girls with short hair, but also appropriate for girls with long hair, blow-drying and leaving the hair down is the simplest style of all. This cuts down on time and avoids usage of multiple hair products. If your daughter has fast-drying hair, you can even skip the blow-dryer and allow the hair to dry naturally. Either way, this look is suitable for girls of any age. Add pizzazz to this style with a clip, ribbon or headband.
Curls
A curly hairstyle creates an air of subtle sophistication without crossing the line of age-appropriateness for middle school girls. This look can be achieved in multiple ways depending on how much time you have. After the basic blow-out, a curling iron can be quickly applied to create various sized curls or use cloth curling strips for longer-lasting, but more time-consuming, curls. For girls with naturally curly hair, simply blow dry and add a small amount of holding product, if desired.
Salon-styled
For the truly special occasion, or even just the monthly dance, a visit to the salon is always an option for middle school girls. Be sure to tell the hair stylist your child's age ahead of time and be involved in the decision-making process to ensure the final look is age-appropriate. Discuss styles with your daughter ahead of time to avoid arguments.