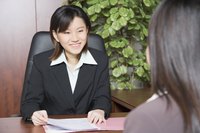 Careers searches are broken into three periods: job leads and research, the interview and the follow-up. The way you handle each period affects your chances of receiving a job offer. When you get a lead on a job that might interest you, research the company and the employer, create a cover letter and resume, and hope for the interview. Should the employer contact you, use your knowledge and research during the interview and be confident. After the interview, follow up to further express your interest.
Thank-You Cards
Sending a thank-you card is a tried-and-true way to contact an employer after an interview. Generally, interviewees should send a short, concise note of thanks to the employer within a day or two after the interview. Keep the note brief and professional. The purpose is simple: to thank the interviewer for her time and consideration and to bring up one or two highlights from the interview. Doing so further expresses your interest in the position and helps keep you in the mind of the employer as she reviews the interview results.
Follow-Up Phone Call
Before ending your interview, ask the employer for a rough timeline for making a decision. Often, the employer will estimate when she intends to whittle down the competition and either schedule subsequent interviews or make a job offer. After following up with a thank-you card, you can follow up with a phone call, but wait until a few days after the deadline. If you do not know the timeline, it is appropriate to call the employer a week after your initial interview. Keep the conversation brief and limited to expressing your interest and asking about the employer's decision-making progress. Call in the late morning; avoid calling first thing in the morning, after lunch or at the end of the day.
Emails
Email might also be an appropriate method to contact a prospective employer after an interview. The rules for emails are similar to those of thank-you notes; keep the information in the email brief and professional. Avoid using colloquialisms, use proper addresses and salutations, and proofread the email for spelling or grammatical mistakes. Deciding whether to send a follow-up email depends on the circumstances. A follow-up email is appropriate when that has been the way you and the employer communicated before the interview or when the employer has told you that you may email him questions or concerns.
Other Issues
When contacting an employer after your interview, keep the employer's point of view in mind. You are not the only candidate and the employer must weed through the applicants and continue business as normal, so he is busy and his time is valuable. Avoid becoming a bother to the employer; contacting him too often or too soon could affect the employer's decision about you.