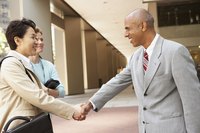 Public relations and marketing professionals bear the responsibility of being the positive face of a company, even during times of crisis. Some people learn the skills necessary to perform the task with training and others have a natural charm that enables them to represent a company with ease. To be an effective ambassador, you must keep your emotions in check and stay on message whether speaking to employees, potential clients or to the media.
Communication
Good public speaking skills are an asset. Smile and speak politely when speaking on behalf of the company. Use a calm, reassuring tone of voice that is authoritative when needed. This makes your words memorable, allowing you to drive home the most important points of your message. You should avoid slang and too much humor, although moderate amounts may be appropriate in some situations. You can improve your public speaking skills by participating in practice sessions hosted by organizations like Toastmasters.
Attire and Grooming
The way you dress influences how people perceive you and your company. Wearing professional, conservative, well-fitted clothing takes the focus off you and places it on your message. To keep up a professional wardrobe on a budget, purchase clothing on sale and have items altered so they fit properly. Women should avoid wearing revealing clothing. Additionally, keep jewelry to a minimum and maintain a neat, fashionable hairstyle.
Knowledge
A company representative must know their company's message and products inside out. You may need to spend time with development teams testing products and should read company manuals and brochures during and after work hours. As an expert, you should be able to talk about the organization and answer questions about it. This level of knowledge will also helps you answer hypothetical questions and to make educated guesses when there is no obvious answer.
Public Accessibility
Answer phone calls and emails in a timely manner. This helps you create a positive image of the company to the news media and potential clients. You should also engage the public on and offline by participating in community events and maintaining social networking accounts. Be aware of your surroundings, even in social settings, and always be polite and professional -- remember, people generally remember negative, rather than positive interactions.