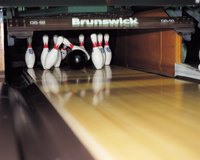 Professional bowlers spend their competitive lives traveling from city to city, getting to bowl every week. An individual steadily improves his game while meeting interesting people and seeing different cities across the United States. Professional bowlers budget their expenses based on the money they earn from tournaments. The expenses for a professional bowler consist of membership to the Professional Bowlers Association, bowling balls, clothes, and food and lodging.
Membership
The first expense is membership in the Professional Bowlers Association. To apply for competitive membership, individuals must have an average score of 200 for a minimum of 36 games within the previous 12 months in a tournament club or an average score of 190 for a minimum of 36 games within the previous 12 months in a sports league. Competitive membership enables the individual to compete in PBA tournaments. The cost includes a $99 initiation fee and $300 yearly fee.
Bowling Ball & Clothes
Professional bowlers need a bowling ball that meets PBA regulations. This includes any United States Bowling Congress-approved ball manufactured before 1982 and whose manufacturer is currently product-registered by the PBA. Professional balls average around $150 per ball depending on the manufacturer. Competitors also have to follow the PBA guidelines for dress codes at tournaments. Competitors must wear approved bowling shirts. Mock-turtleneck shirts are allowed underneath but not T-shirts. In addition, no denim jeans are allowed, only dress pants and skirts of the appropriate length. Finally, the competitors must have their hair neatly cut and clean, minimal facial hair.
Food and Lodging
Another expense for professional bowlers is the cost for food, lodging and travel to each tournament. This varies depending on how much each bowler wants to spend on these items. To save money, some bowlers share hotel rooms and some even buy an RV. RVs save money because they can serve a dual purpose by providing travel to a tournament and lodging. In addition, bowlers can cook in their RVs to save money.
Tour Fees
The final expense are the fees to enter tournaments. The Regional PBA Tour charges a $220 entry fee for members and $285 for nonmembers. The Senior PBA Tour charges $425 for members and $475 for nonmembers. The PBA Tour costs $500 for members and $525 for nonmembers. This does not include the fee for the U.S. Open, which is separate. The Tour Qualifying round is $300 for members and $325 for nonmembers.