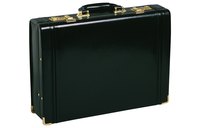 Risk is closely associated with insurance. Perhaps no one knows this fact better than the insurance underwriter. The insurance underwriter's job is to assess risk for insurance companies. Insurance underwriters can earn a decent salary. The earnings and capabilities of the underwriter can be enhanced by designations like the Associate in Risk Management, or ARM.
Job Description
Insurance underwriters typically work for insurance companies. Underwriters take the applications of potential insurance customers and determine whether the insurance company should insure them. They assess the risks associated with insuring a potential customer and determine the likelihood that the insurance company will have to pay out a claim. They also decide what premium the potential customer should pay for insurance coverage. Underwriters use software to help them determine these factors.
ARM Designation
The Associate in Risk Management designation is offered through the American Institute for Chartered Property Casualty Underwriters. This program allows insurance underwriters to gain the knowledge needed to determine the risk associated with potential insurance customers. When insurance underwriters pass the required ARM exams, they earn the ARM designation. There are three courses required for an ARM designation: risk assessment, risk control and risk financing.
Insurance Underwriter Salary
According to the Bureau of Labor Statistics, there were more than 95,000 insurance underwriters employed in the U.S. as of May 2010. The average salary for this vocation was $65,220 per year, at that time. Connecticut and New York were the states with the highest average salary. Insurance underwriters earned average annual salaries of $83,310 and $78,110, respectively. The states with the highest levels of employment in this vocation were New York and California. This BLS data covers all types of insurance underwriters, not only those with an ARM designation.
Opportunities With ARM
According to the AICPCU, 75 percent of insurance underwriters who completed the ARM designation believed that the designation resulted in quicker career growth. Seventy percent said that they received a promotion within two years of completing the ARM designation. According to the BLS, insurance underwriters make an average of $65,220 per year, as of May 2010. The ARM designation makes insurance underwriters more competitive in the job market. Salary is dependent on geographic location, work experience and level of education. According to Beyond.com, an underwriter applicant in San Diego could expect to earn between $50,000 and $70,000 per year if he had the ARM designation, as of 2011. An applicant for a senior underwriter in Phoenix, Arizona, could expect to earn $60,000 to $80,000 per year, if he was still completing ARM training.