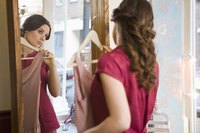 When you're big busted, it's easy to get discouraged when you're buying dresses. Dresses designed to look conservative can look too sexy, or cleavage can overflow and look inappropriate. Some types of dresses, such as halter style, may do nothing but emphasize your bust and call more attention to it. Dress your entire body, not just your bustline for a successful look that you can wear anywhere.
V-Neck
Choose a dress with a v-neck for a flattering look. The v-neck will lengthen your neck and complement your bust. A v-neck can actually minimize a bust, especially if the dress is a darker color. Some v-necks may be lower and provide more cleavage than you want to show, and in that case you can layer the v-neck with a thin camisole underneath the the dress. Skip patterns and opt for dark, solid shades.
Wrap Dress
A wrap dress works because it creates a slim waistline, which balances out a larger bust and creates an hourglass shape. Wrap dresses made of lightweight jersey material can look even better because of the way the fabric drapes over your body. Because wrap dresses are typically v-necks, the dress provides the bust minimization and since they are belted your waist can be tied in to fit you perfectly.
Scoop Neck
A scoop neck works the same way as a v-neck. It draws the attention of the eyes up and away from a large bust. Always opt for a flattering neckline such as the scoop or v-necks; stay away from turtlenecks. Scoop necks are often seen on empire dresses, which are loose on the bottom and tighter on the top. If you want to add a more tailored look to an empire dress, belt it in at the waist for a more flattering silhouette.
Form Fitting
When you are big busted, it's simple to grab something big and baggy to hide your body. However, that is the most unflattering choice you can make. Go with your curves, not against them. Choose dresses that are form fitting and tighter as opposed to loose and big all over. Even if you are plus size, a form fitting dress will highlight your curves and hide the bad spots. Always add a belt or choose a dress with details at the waist to bring attention to the smallest part of your body.