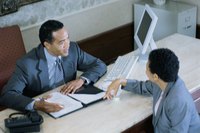 In concert with manager evaluations, many companies choose to implement self-evaluations as part of the appraisal process. Self-evaluations promote a two-way dialogue, allowing employees to speak about their experiences and receive feedback from managers. Self-evaluations allow employees to speak honestly and objectively about their performances. Completing a self-evaluation is a daunting task for some employees who may not know the right things to say. Understanding what employers look for during self-evaluations can help you provide the right information and make the best impression.
Review Company Policies
Familiarize yourself with your company's policies regarding the evaluation process. It is important to understand the expectations of the organization and your manager. Go over your employee handbook to verify that you are completing your evaluation according to your company's standards. Take time to form thoughtful statements, and devote your full attention to completing the evaluation. Managers will take notice of your effort, and in turn give you thoughtful and helpful feedback.
Answer Honestly
Honestly assessing your performance is an important aspect of successfully completing an employee self-evaluation. Although managers may not remember every detail concerning your productivity, they carry a general knowledge of what you achieved. Trying to give yourself credit when it is not deserved simply makes you appear dishonest and unrealistic. However, you shouldn't hold back on speaking about your achievements if credit is rightly deserved. Expound on your performance and give yourself an honest rating. If your ratings are low, explain to the manager your plans to improve your performance.
Be Specific
Managers easily remember your latest achievements, but sometimes forget your earlier ones. When you complete your self-evaluation, focus on your earlier accomplishments. Support your self-evaluation with documentation and positive emails sent to you in the past by your manager regarding your performance. Use as much detail as needed to talk about your performance, but avoid exaggerating in an effort to impress your boss. Writing in a conversational style helps to create a relaxed environment during the evaluation process. Attempt to avoid statements that speak solely on your personality. Focus on your performance and how it affected the company.
Room for Improvement
Even in your most productive year, in most cases, room for improvement still exists. Include in your self-evaluation areas where you feel you can benefit from further development.. Speak about your areas for improvement in a specific manner. Most employers don't view your need for improvement as a weakness. Employers like to see employees who want to grow within the firm, take accountability and show initiative. Your employer should provide you with feedback concerning your desire to improve. Take advantage of training classes and other resources your manger may suggest.