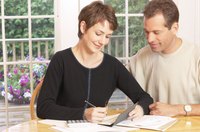 Workers with 401ks authorize employers to take pretax dollars out of their paychecks and deposit the money into the employee savings plan, where the funds will grow tax-free until withdrawn at retirement. Employees participating in company 401k plans have the option of deciding how much they will contribute each month. Every person has a different preference. Saving too much could put a squeeze on the cashflow some people need for day-to-day living expenses. But workers who save too little in their 401ks are robbing themselves of future wealth by not taking full advantage of the tax benefits or the employer match if the company offers one.
Maximum Limits
Although you have the option of deciding how much to put in your 401k each month, the federal government has a maximum limit of $16,500 a year, which was in effect as of 2011, and many employers set their own maximum contribution limits. If your employer sets a 4-percent limit of your salary and you gross $30,000, that means the most you could contribute each year is $1,200. That comes to $100 a month in pretax dollars. If you can afford to spare $100 a month in this scenario, you would be taking maximum advantage of the retirement plan. If you could not afford $100, contribute as much as possible and work you way up to the 4-percent level as soon as possible. Time is money when it comes to compound interest.
Employer Match
Employers will sometimes match their employees contributions in a 401k up to a certain percentage, as a way to motivate the workforce to save for retirement. Employer matching plans vary, with some more generous than others. The maximum amount an employer is allowed to contribute is 6 percent as of 2011. Assuming a company offers to match all employee contributions 100 percent up to 6 percent of gross salary, an employee earning $60,000 could contribute up to $3,600 a year, or $300 a month of his pretax salary to the company 401k plan, and his employer would match it $3,600. If your employer offers a company match, contribute at least the percentage required each month to receive the full company match. In the above case, that amount is $300 a month.
Catch Up Contributions
Employers are not required to provide catch-up contributions, but if you are 50 or older working for a company that offers this benefit, tax rules allow you to make catch-up contributions to your 401k over and above your regular contributions. Catch-up contributions as of 2011 are limited to a maximum of $5,500 a year, which comes to $458.33 a month. Congress authorized catch-up contributions in 2001 to give older workers a chance to accelerate their retirement savings if need be. By taking full advantage of catch-up contributions, you could boost your contributions by $82,500 from age 50 to age 65. So, if you could use an extra $82,500 in addition to your regular 401k contributions and employer match, if applicable, budget an extra $458 a month for your 401k starting at age 50.
Debt
If you have high-interest debt, make paying it off as quickly as possible your top priority. High-interest debt, such as credit cards, installment debt and payday loans can ruin your financial situation. You are better off reducing the amount you put into your 401k each month and using the extra money to pay off debt even faster. The only exception would be if your company offers an employer match. In that case, each month try to contribute at least as much as your employer is willing to match.