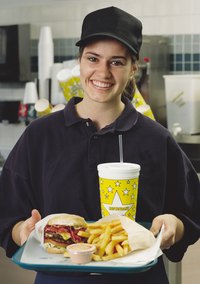 When a company that offers customers multiple locations, such as restaurants or department stores, considers expanding its business, there are two primary options available. The first option is opening corporate stores, owned and operated by the company headquarters. The other option is to franchise the business name and model to independent owners who run the business themselves.
Reduced Capital Requirements
A significant advantage of franchising for the parent company is the fact that the parent company's costs are significantly lower than with company-owned restaurants or stores. In a franchising model, the independent business owner typically assumes all the costs of opening and running the franchised business, leaving the corporate headquarters responsible for activities such as marketing and administrative activities.
Rapid Expansion
Because of the significantly lower costs associated with franchising businesses as opposed to opening corporate-managed locations, a much greater rate of expansion is possible when franchising. Assuming willing independent business owners can be found, the parent company can potentially open up several times as many stores as it would be able to open without franchising, using the same amount of capital investment. Because a company's ability to raise capital is often limited, franchising is often the most effective way to expand quickly into new markets.
Increased Variation
A disadvantage of franchising for the parent company is that disparate geographic markets might require increased variation in prices and products. For example, a fast food restaurant located in the Southwestern United States may have customers with different tastes than those in New England or the Midwest. This may make branding and marketing more difficult to manage on a national basis.
Lack of Control Over Quality
Another disadvantage of franchising is the loss of control that can come from having numerous business operators working independently from one another. In a corporate-owned location, service, cleanliness and other areas of quality can be more closely regulated and monitored than in independent franchises. Significant variations in quality can have a detrimental effect on the entire organization, causing sales and profits to fall for the corporation and the franchises alike.