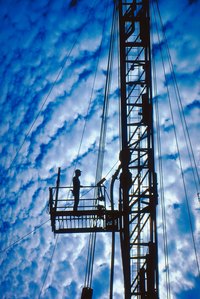 On land or offshore, a drilling rig supervisor is commonly known as a "toolpusher." The toolpusher is the highest level of management on a drilling platform or derrick site. The toolpusher or rig manager manages and supervises all crew members and drilling, as well as completion and production operations. The toolpusher supervises equipment movement, maintenance and repairs and is responsible for the safety of his crew and the successful completion of a drilling project.
Income
The income of a toolpusher depends on geographical location, the employer and the training and experience of the toolpusher. Toolpushers may work on a land-based drilling site or on an offshore drilling platform. They may work within the United States or on exploration locations worldwide. Toolpushers working for independent land-based drilling companies may also function as the main driller on a rig, supervising other drillers and all operations on that rig. The United States Department of Labor reports that as of May of 2008, rotary drill operators earn an hourly wage of $27.28 or an average weekly salary of $1,120. Salaries for toolpushers vary substantially, depending on whether the rig is land-based or offshore. "Oil Jobs 411," an online oil and gas exploration and production job board, advises that toolpusher jobs, depending on the level of experience required, typically pay $60,000 to $155,000 per year. Employment contracts are generally based on 24 to 36 months. Benefit packages normally include transportation, lodging, meals, uniforms and completion bonuses.
Job Description
A toolpusher monitors installation, maintenance and repair of drilling equipment and tools. He may relieve the driller as operational requirements demand while supervising all ongoing operations on the rig floor. The toolpusher is also responsible for supervising mud weight, drilling fluids and well control operations in an emergency situation.
Qualifications and Training
The majority of toolpushers have gained experience and advancement after working as a roustabout, driller or foreman before advancing to the position of toolpusher. Staying current with ever-evolving technology and safety regulations is integral to the successful performance of a toolpusher's job. Special training classes in fall protection, first aid, dangerous goods handling and high-angle rescue are but a few of the classes that toolpushers attend to maintain proficiency and stay abreast of technical, safety and regulatory changes. A toolpusher should be detail-orientated, with excellent communication and management skills. A toolpusher must also be in good physical condition. Stamina and strength are required to climb derricks and scaffolding, to lift heavy equipment and to respond to emergencies. Although a degree is not mandatory, many toolpushers hold a bachelor's or master's degree in petroleum engineering, mechanical engineering or oil and gas production.
Employment Opportunity Outlook
Toolpushers with ultra-deep water experience are in high demand by offshore oil and gas exploration companies. The world demand for energy and the rising price of oil will continue to encourage offshore drilling. A study conducted by the American Petroleum Institute concluded that the international oil and gas industry will create approximately 1 million jobs by 2018 and could exceed 1.4 million new jobs by 2030.