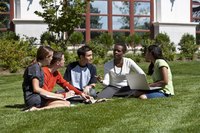 The Internal Revenue Service developed the tax-sheltered annuity plan with a number of tax advantages to help employees of tax-exempt organizations save for retirement. While the TSA plan is meant to be a retirement program, you can withdraw money for your daughter's college tuition through a hardship withdrawal. Only consider a hardship withdrawal if you have no other options as these withdrawals are taxed and penalized.
TSA
The TSA may only be used by tax-exempt organizations established under section 501(c)(3) of the tax code. This includes churches, hospitals and colleges. The TSA offers several tax advantages over a regular brokerage account. Your contributions into a TSA are fully tax deductible in the year they are made. In addition, your investments in a TSA grow tax deferred until retirement. This creates a higher annual growth rate over regular accounts. The tax on your income and investment gains is delayed until you make withdrawals in retirement.
Hardship Withdrawal
Because the TSA is meant to be a retirement plan, your access to your account is limited before retirement. To make an early withdrawal from your TSA, you must qualify for a hardship withdrawal. A hardship withdrawal is a withdrawal for a financial hardship, defined as an immediate and heavy need. The IRS lists medical expenses, home acquisition costs and funeral expenses as hardship withdrawals. The IRS also allows hardship withdrawals for education expenses, so you can access your TSA account for your daughter's tuition.
Taxation
Paying for your daughter's tuition out of your TSA can be expensive in taxes. The IRS taxes your entire hardship withdrawal as income in the year it is made. In addition, your withdrawal could be considered an early withdrawal. The IRS considers a withdrawal early if you have quit the company offering the TSA and are younger than 55, or if you are still working at your company and are younger than 59 1/2. The IRS charges an additional 10-percent penalty on early hardship withdrawals from your TSA.
Loans
Another option for paying your daughter's tuition could be a plan loan from your TSA. Not all TSA plans offer loans. Check with your plan administrator to see if you can take a loan from your plan. If loans are permitted, you can borrow up to $50,000 from your TSA for any reason. The loan must be repaid with interest into your TSA account in five years. If you do not repay your loan on time, the IRS considers it a taxable withdrawal.