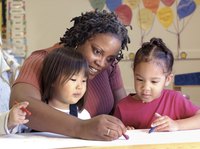 Enjoy working with children in a classroom setting? Consider a position as a paraeducator, also known as an educational aide, in Texas. Paraeducators often work cooperatively with classroom teachers to provide additional support for students or may also work in various capacities on campus providing supervision and assistance as needed. Requirements for employment as a paraeducator may vary by school district, but the Texas Education Agency establishes minimum criteria for consideration.
Educational Aide Certification
The Texas Education Agency (TEA) classifies educational aides into three categories, according to experience and educational background. Educational Aide I certificates require prospective candidates to hold a high school diploma or its equivalent and have some experience working with children, such as in a licensed day care, church or private school. To apply for certification as an Educational Aide II, applicants must also have either two years of experience as an Educational Aide I, 15 semester hours of college credits related to child growth and development or demonstrate proficiency in a skill area as determined by the employing school district. The superintendent of the employing school district also must indicate that the applicant has acceptable experience working with students or parents. Certification requirements for Educational Aide III positions include being a high school graduate and having either three years of experience as an Education Aide I or II or at least 30 semester hours of college credits with an emphasis in child development.
College Coursework
Courses are available at schools such as Austin Community College for paraeducators hoping to work as Title 1-A classroom assistants. These federally funded positions require paraeducators to have completed two years of higher education, hold an associate's degree or complete a formal course on instructional strategies. The third option is offered at Austin Community College as a series of three workshops totaling 21 hours of study to earn a Paraeducator Institute Certificate.
Duties
Entry-level educational aides work under a certified teacher's supervision, according to the Association of Texas Professional Educators, and may help with clerical operations, supervising students between activities, preparing and using instructional media or duplicating instructional materials. Educational Aide II employees may record grades and attendance, assist with testing routines and instruction, conduct drills and exercises with students or prepare and use instructional materials. The highest level of certification as an Educational Aide III allows paraeducators to directly assist with instructional activities, relieve the teacher of certain duties or work with individual students or groups in a variety of educational experiences.
Average Wages and Work Schedule
Many paraeducators work on days that school is in session, typically nine or 10 months a year, depending on the school district. According to the Bureau of Labor Statistics, approximately 60 percent of paraeducators across the U.S. work full-time during the school year and earn an annual median wage of $22,000. While full-time paraeducators may receive benefits such as health insurance, many part-time employees do not receive benefits in addition to salary. About 37 percent of paraeducators and teacher assistants belong to a professional union that bargains for members' rights through an employment contract.