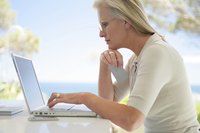 Entrepreneurs have many characteristics because they start various types of businesses. It takes different skills sets and personalities to run online businesses, for example, than selling products in person. But these job creators also share a number of characteristics. And it is often these common characteristics that drive and propel them to success.
Visionary
People who start their own businesses are visionaries. They are able to take ideas and follow through with them. They don't let short-term problems or situations get in the way of long-term success. Entrepreneurs believe in themselves and have passion about what they are trying to achieve. These individuals believe what they are doing will change their own lives and the lives of their customers and those around them. They generally stay positive, even when facing adversity.
Goal-Oriented
Entrepreneurs are usually goal-oriented. They thrive on achievement and success. Some people are forced to start their own businesses because of job losses. Others create their own jobs after many years of cultivating their skills in the employment world. Whatever the case, these individuals know how to take the necessary steps to get want they want. For example, entrepreneurs will usually start by creating business plans. They determine what resources and supplies they need to get started. Subsequently, they create various marketing and advertising strategies to achieve the results they desire.
Risk-Takers
Entrepreneurs are generally risk-takers. They are not afraid to invest their savings or assets into their business ventures. However, these enterprising individuals are usually circumspect when choosing financing methods. They finance their businesses through banks, if necessary, to acquire enough capital to run their businesses for several months. They then count on profits to sustain their ventures. Some may even incorporate to get initial capital from investors. Whatever they do, they are usually willing to risk short-term financial gain for long-term wealth.
Adaptability
Adaptability is one of an entrepreneur's greatest attributes. Entrepreneurs expect adversity or challenges. They know when to change ineffectual methods or strategies if they fail to work. For example, a business owner may face lost sales and profits because of new competitors. The largest competitor may enter the market with relatively low profits. Consequently, the business owner may add products and improve customer service to differentiate her business from this competitor.
Leaders
Entrepreneurs are usually leaders. They may start as sole proprietors but usually anticipate having employees at some point. Business owners know how to hire the right individuals, train and motivate them. Many have charisma, according to Entrepreneur. They have a certain magnetism that compels workers to perform to the best of the abilities.