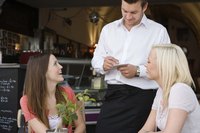 A job as a waiter takes more skill then you might realize. Waiters may not need advanced schooling, but they must possess certain skills to succeed in the job. Most restaurants, hotels and other establishments that serve food require waiters to possess superior people skills, a flexible attitude, food knowledge and physical ability to lift and carry. Many restaurants prefer experienced waiters who maintain a professional air, can easily talk to customers, understand the menu and anticipate customer's needs.
Customer Service Skills
Waiters must possess superior customer service skills. He should understand how to speak to the public, feel comfortable approaching customers, act politely, take care of the customer's needs and answer questions. The server must maintain a professional tone of voice and be aware of his expressions and body language. Providing friendly, thorough and quick customer service is one factor that makes patrons return customers. Throughout the meal, the waiter must remain attentive to his customers, anticipate his needs and listen closely, without being aggressive.
Schedule Flexibility
Most restaurants do the majority of their business on the weekend evenings. Waiters need to be able to work flexible hours and fill in for co-workers whenever necessary. Most restaurants will require waiters to work various days and shifts, including evenings, weekends and holidays. The waiter must be reliable and show up to work on time and when scheduled. The hours may be long, and waiters may need to stay past their scheduled hours until customers have finished their meals.
Food Knowledge
It is the job of the waiter to explain and recommend menu items and specials to customers. The waiter must possess basic food knowledge including dishes' primary ingredients, preparation and taste. Restaurants require waiters to learn their menu and specials in order to answer customers' questions and make suggestions. The waiter must always be prepared to describe any item from the menu at any time. Additionally, fine dining restaurants may ask waiters to understand pairings between alcohol and menu items.
Additional Requirements
Other job requirements of a waiter may depend on the establishment. If the waiter will serve alcohol, he must be of age to serve, per state requirements. Additionally, the waiter must have the physical ability to carry trays and maintain balance when delivering food and beverages. Many restaurants, especially those serving fine dining or requiring a high level of service, require prior server experience. An experienced server understands how to work well under pressure, anticipate customer problems and possesses familiarity with safety regulations and sales techniques.