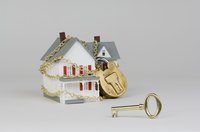 Homeowners have options for getting out from under mortgages they can no longer afford. Many lenders accept a deed in lieu of foreclosure to avoid the cost of repossessing a property. The lender's benefit of accepting a deed is less if there is a lien on the property such as a second mortgage. Lenders will accept a deed for a property with a junior lien under certain conditions.
Second Mortgage
You may have the option to take out an additional mortgage loan against your home equity. Some banks allow homeowners to borrow up to 125 percent of the current market value, minus the amount of the first mortgage. Certain states and banks limit borrowers to 85 percent of appraised value, but in many cases a second mortgage or junior lien will cause you to owe more on the two loans than the house is worth.
Deed in Lieu of Foreclosure
As a homeowner, you may face an issue such as unemployment, divorce or changes in mortgage terms that make the monthly payments too costly. Many banks and mortgage companies will work with you to alter the loan terms, but often nothing fits a distressed budget. If you are unable to sell the home within a certain number of months, the lender may relieve you of the debt in exchange for the deed to the property.
Lenders Considerations
You will have to consult with the lender that provided your first mortgage about accepting your deed and discontinuing the foreclosure proceedings on a home with a second mortgage. Your lender will consider the current market value of the home against the amount of both loans before deciding on your proposal. The lender is not obligated to accept your deed and probably will not if the home cannot sell for enough to satisfy both loans.
Lenders Options
A lender may accept a deed from a borrower on a distressed mortgage with a junior lien attached. The primary lender will become responsible for the secondary loan. In most cases, the first mortgage lender includes a non-merger clause in the agreement paperwork for the deed in lieu. That clause prevents the secondary lender from pursuing the primary lender for the debt. The primary lender typically pays off the secondary loan after selling the property.