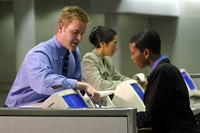 After a final check of tickets and passports, and with a cheerful smile, airline gate agents hand passengers over to the aircraft crew to look after. They try to make the transition from airport to plane as smooth as possible by making announcements concerning boarding, ensuring all passengers have the correct documentation, making provisions for the elderly and disabled to board easily and responding to passenger inquiries. Salary levels for the role are comparable with other transportation agents, such as reservation and check-in clerks.
Average Salary
For the purposes of its survey of employment throughout the United States, the Bureau of Labor Statistics classified airline gate agents alongside their fellow transportation ticket clerks and agents, such as those who take travel reservations. As of May 2010, it gave the mean yearly salary across the profession as $32,640, equivalent to an hourly pay rate of $15.69. Those in the top 10 percent of earners achieved yearly salaries of over $46,480, while their colleagues in the bottom 10 percent earned less than $19,940 per annum.
Salary by Industry
Of the industry sectors detailed in the bureau's survey, airline gate agents most commonly fall into the category of scheduled air transportation or support activities for air transportation. The bureau listed the mean yearly wages within these two sectors as $35,010 and $25,780, respectively.
Salary by Location
The bureau reported that District of Columbia was the most lucrative area for an airline gate agent or other travel clerk to work in. It gave the mean annual salary within the District as $37,780. Michigan and Illinois were also reported to be comparatively lucrative locations, with respective means of $37,380 and $35,750. Kentucky and Oregon had almost identical wage levels — $35,390 and $35,010, respectively — as did Arizona and Nevada — $32,800 and $32,320. Utah had one of the lowest reported pay levels, at an annual mean of just $27,280.
Outlook
The Bureau of Labor Statistics predicts that employment opportunities for transportation ticket agents and clerks, such as airline gate agents, will increase by around 8 percent over the decade from 2008 to 2018. This is in line with estimates for the country as a whole across all occupations, put at between 7 and 13 percent for the same period. As such, wage levels should remain competitive, although employment may be affected by fluctuations in the economy, as members of the public tend to travel less in periods of downturn.