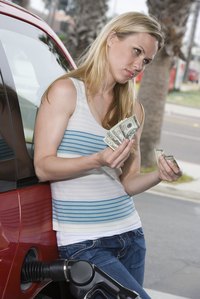 Managing a household budget is a matter of matching income with expenses. Some expenses are more difficult to change or control than others. If you and your family need to cut your living expenses due to a reduced income or unexpected financial obligations, you can find places to save in several key areas.
Eliminate Unnecessary Bills
Monthly bills can add up, especially when they consist of necessary items such as rent, food and utilities. One fast and effective way to reduce your living expenses is to eliminate all unnecessary costs. Use public Internet service at school or in your local library. Borrow movies from the library rather than subscribing to cable or satellite television. You can also eliminate your cell phone bill and live with just a land line, or combine several cell phone bills into a single family plan that provides savings and requires family members to share service limits.
Relocate
While it means a major change in your lifestyle, relocating can reduce your long-term living expenses in a number of ways. If you move to a state with a lower income tax rate, you'll save money each paycheck from smaller income tax withholding. Communities with low property tax rates will charge you less to own property, just as moving into a smaller home in the same community will reduce your annual property taxes if the value of your new property is less than the home you leave. A smaller home may also mean less maintenance and reduced heating and cooling costs throughout the year.
Restructure Your Debt
It's difficult to meet your household expenses, and find money to save, when you're paying off loans. However, debt is an important living expense since defaulting may cost you your home, car or ability to borrow in the future. While you may not be able to eliminate loans anytime soon, you can still restructure and manage your debt to save yourself as much as possible. Consolidate student loans to take advantage of low interest rates and affordable repayment plans. Talk to your mortgage lender about refinancing, especially if your credit score has improved since you initially purchased your home.
Drive Less
Many household expenses involve travel and automobiles. Driving less will save money in a number of areas. Less driving means less money for fuel. Cutting back to a single car for your family instead of two or three may mean sharing rides and relying on public transit, but it also saves on car loan interest, maintenance, parking costs, vehicle registration and auto insurance.