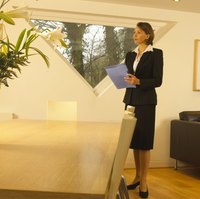 Advertising agencies serve their clients by developing advertising campaigns designed to promote the client's brand. Media outlets that sell advertising, such as newspapers and magazines, radio and television stations and websites, often solicit advertising agencies directly for ad sales. Typically, agencies will buy media placement on behalf of their clients and take a commission from the sale.
Find Agencies
You can search advertising agencies in a specific demographic area, such as a city or state, or extend the search nationwide. This can be done with an online search for advertising agencies or by going through an organization such as the American Marketing Association.
Research Agencies
Learn about the types of clients an agency serves before you try to target it for advertising sales. Visit each agency's website and learn about who it represents. Most agencies post client lists on their sites. Plan to target those that have clients in line with the demographics your media outlet serves. Jot down notes about the agency's clients and about each client's specific demographics.
Categorize Agencies
Place agencies into individual categories. For example, if your media outlet targets senior citizens and you find agencies that specialize in representing clients such as assisted care facilities, nursing homes and retirement communities, place those agencies in your senior category. If your media outlet reaches the youth demographic and you identify advertising agencies that have clients such as video game stores, fast food restaurants and trendy apparel, place those agencies in your youth category. A media outlet such as a newspaper or television station is likely to have numerous demographics it attracts based on content and programming, so create as many categories as is appropriate when targeting advertising agencies.
Draft Sales Proposals
Craft individual proposals that speak to each market you have identified. Outline the demographics of the form of advertising you are trying to sell and demonstrate, in writing, how buying an advertisement on behalf of a client will be beneficial. The goal is to be able to approach each advertising agency you're targeting and show it how purchasing ads in your medium will benefit its clients in specific and tangible ways.
Make the Connection
Approach advertising agencies in the same way you would approach individual clients. Make an appointment with the agency's media buyer and make your sales pitch.