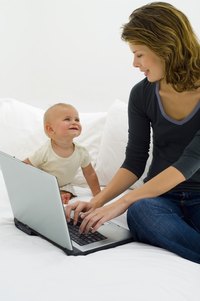 The benefits of self-employment include autonomy, flexibility and professional fulfillment, but planning maternity leave (or paternity leave for that matter) as a self-employed professional presents additional challenges. According to the National Partnership for Women and Families, 11 percent of employees have access to employer-paid family leave; so self-employed professionals have plenty of company in the search for leave benefits.
Family Medical Leave Act
Although 89 percent of workers do not have access to paid leave, an employee's job may be protected under the Family Medical Leave Act (FMLA), while a self-employed professional's business is not guaranteed. FMLA protection is extended to those who have worked for a large company (50 or more employees) for 12 months. Employees do not need to be full-time workers but they must have worked at least 1,250 hours in the year leading up to the leave to be eligible. Those eligible for FMLA may receive up to 12 weeks of unpaid leave for a variety of reasons, including the birth or adoption of a child, during a 12-month period.
Create Your Own Leave
In the absence of a clearly defined FMLA plan, the most effective and reliable way to take maternity leave is to create it. Develop a clear plan that outlines the amount of time you plan to be on leave and how your business – both routine work and emergency situations – will continue in your absence. Be prepared to delegate and engage a savvy substitute or a competent assistant during your last trimester so labor does not catch your clients or business by surprise. Solicit extra engagements in the months leading up to delivery and bank the additional fees to create a fund to support living expenses during maternity leave.
Support from "Employers"
By performing work for certain companies, an independent contractor may be eligible for some benefits normally only reserved for employees. Investigate the policies of major clients (especially larger clients with family-friendly benefits) to determine eligibility. Access to benefits like paid sick days or disability insurance can help pay for a nonworking maternity leave.
Disability Insurance
Short-term disability coverage may be available to provide financial support during maternity leave. Policies may be purchased directly from an insurer through some states, including California, New York and New Jersey, or through an organized union. Read the insurance policies and eligibility requirements carefully and make sure the policy includes both pregnancy and postpartum coverage.