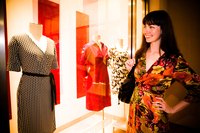 Having knowledge about your industry is important, and so is knowing your customers — current and prospective. Knowing your customers can help shape your business's goals, growth strategies and priorities. Moreover, if you do not know your customers, you may waste your marketing strategies on people you should not want to target and face difficulties with product branding. When you know your customer, you can serve her better.
Anticipate Customer Needs Better
When you know your customer, you can anticipate her needs better. You can tailor your products, services and advertisements to fulfill these needs. For example, if your customers are young mothers, you would create products that would help make caring for a baby simpler, train staff to be knowledgeable in infant and toddler care and create ads that would attract young mothers. If your business has face-to-face interactions with customers, you can set up your business in such a manner that would help your customers feel welcome and comfortable.
Increased Trust
When your customer knows that you understand her, she will trust you more and view you as an expert resource. This increased trust can lead to invaluable word-of-mouth advertising. For example, if you sell electronic equipment and your target customers are seniors, knowing your customer would mean having a variety of accessories and services available and expert staff on hand who can provide tutorials.
Better Customer Service
When you know your customer, you can offer personalized customer service. Improving your customer service will add value to your business and the products you sell. When a luxury hotel, for example, knows its customers and receives a request or complaint, the hotel staff can anticipate a guest's expectations and take measures to exceed them. A business's customer service can suffer if the business does not know and understand its customer base, which can affect sales and the business's reputation.
Customer Loyalty
Knowing your customer can help her feel valued, important and like she belongs. By understanding your customer and providing such an experience, you can earn repeat business. It is cheaper for a business to serve repeat customers than it is to try to acquire new ones. By understanding your customers and having a loyal customer base, you operate more efficiently.