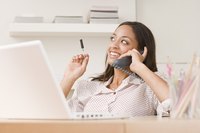 Staying in touch is with your customers is important to the life of your business. However, it is easy to assume that a customer will contact you if he needs assistance. Neglecting to maintain contact with a client, however, can cost you new business. Touching base with your a customer is a good marketing strategy that can make him feel valued.
Phone Call
You may have lost touch with a customer because she was busy, did not feel like she needed your assistance, her needs evolved, she had a bad experience or she was waiting to hear from you. A simple phone call to a client can remind her that you are available and you can learn the reason why a client has not contacted you. If the customer did have a negative experience, you can take action to remedy the situation to help her feel better about doing business with you. In an article for SalesTrainingAdvice.com, business coach Colleen Francis suggests that you should never multitask when speaking to a client on the phone because she can tell when you're not giving her your full attention.
Schedule a Meeting
If you work in an industry where having accurate information about your customer is essential, schedule a time to meet with your customer. This applies especially if you are an insurance agent, financial planner or even a health care provider. Meeting with your client face to face can help you build rapport and talk about issues that are more difficult to discuss in a phone call or correspondence.
Mail a Letter
Send clients a handwritten note using company letterhead. A handwritten note may encourage your customer to think kindly of you and stay in touch or return your phone calls, says Francis. Instead of using the same template for each customer, personalize each letter according to your client's need and situation for added value.
Send an Email
Planning regular contacts by phone can be difficult to maintain when your clients lead such busy lives. In this situation, send a short email. In the email, tell your customer that you are writing to see how she is doing. Let the customer know that you plan to call her at a certain time on a specific day, and to let you know if this arrangement works out for her. The call to action in the email prompts the customer to respond to your message.
Using Social Media
If your company has an account on a social networking site and a customer connects with the company via the site, sending him a personal message may prove fruitful. Because you have access to the customer's profile page, you can post a quick, friendly public message or send a private message about touching base.