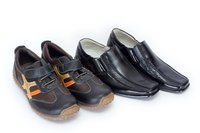 How to Select Shoes to Wear With a Man's Suit. Look down at your feet next time you suit up. Your business associates will undoubtedly sneak a peek, for shoes say a lot about a man's style and his attention to detail.
Things You'll Need
Consider the color of your suit. Black shoes work best with navy, gray (all shades) and black suits. Brown shoes work with tan suits, as well as some shades of navy and black. Black is considered the dressiest shoe color.
Wear lace-up shoes for your most formal occasions. Open-throat or wide-set laces are less dressy than shoes with closed-throat or close-set laces. Cap-toed shoes are considered dressier than wingtip shoes.
Choose loafers and slip-on shoes for your less formal occasions. Tassels make the loafer less dressy.
Wear smooth and shiny leather shoes with suits. Suede and nubuck are viewed as too casual.
Remember the laces of dress shoes lace so that the string makes horizontal lines, not the crisscross of most athletic shoelaces. Also, leather-soled shoes are dressier than rubber-soled ones.
Shine your shoes regularly. Scuff marks will detract from your appearance and shorten the life of your shoe.
Invest in a few pairs of high-quality expensive shoes if you wear suits on a regular basis. Choose sturdy leather uppers and good quality heels.
Match the color of your belt as close as possible to the color of your shoes.
Choose thin socks that match the color of your trousers. When wearing tan suits, choose socks that match your shoe color.