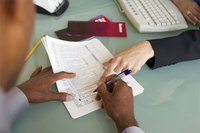 How to File Taxes as a Single Person. Save time and money by using the right filing status for your individual income tax return. Your filing status determines the tax rate on your income and the standard deduction allowed.
Things You'll Need
IRS Forms
Financial Calculator
Computers
Tax Preparation Software
Determine that you were not legally married as of December 31 of the tax year. If you were legally married, determine that you were legally separated under a separate maintenance order issued by a court.
Determine that you did not pay more than half the cost of keeping up the main home of one or both of your parents. The main home of a parent can be a retirement facility or nursing home.
Determine that you did not maintain your home for your child, stepchild, adopted child, grandchild, parent, brother or sister for at least half the tax year.
Determine that your foster child did not live with you for the entire tax year. Any child who is your dependent may be your foster child.
File as a single person, and check the box for single on line 1 of the 1040, 1040A or 1040EZ.