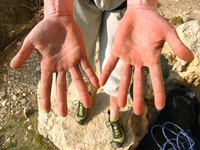 How to Treat Blisters. Blisters are common injuries in the outdoors, but if these pop on their own and are not taken care of, they can become infected. Use the following steps to minimize the chance of infection.
Wash your hands with disinfectant soap and water.
Clean around the site of the blister using a disinfectant soap or solution.
Sterilize the tip of a needle, knife or scalpel by soaking it for at least three minutes in a disinfectant solution or heating it until it glows red, then cools.
Make a small incision at the base of the blister. Make sure you leave the roof of the blister attached so it can continue to protect the skin.
Use a gloved finger to gently push the fluid out.
Apply antibiotic ointment to a piece of gauze and cover the wound.
Cut a hole the size of the blister in a piece of moleskin.
Cover the blister with the moleskin so that the blister rests in the middle of the hole and the adhesive sticks to the skin around the blister.
Check the blister every day for signs of infection: heat, pain and swelling on or around the blister, pus, red streaks radiating from the blister, or fever.