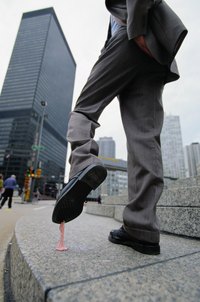 Chewing gum actually helps individuals deal with stress, according to a study by Andrew Scholey, professor of Behavioral and Brain Sciences at Swinburne University in Melbourne, Australia. It also relieves anxiety and helps people be more alert. Popping gum while chewing it is socially unacceptable and considered uncouth. If the goal is to get on a co-worker's or an acquaintance's nerves, then learning how to pop gum a ton of times in succession is a skill to acquire. The remorse you experience while deliberating trying to rattle someone else may be soothed by the knowledge you are relieving your stress at the same time.
Place two or three fresh pieces of stick chewing gum into your mouth.
Chew the gum for about one or two minutes to make it pliable and moist. If you can stretch it out with your tongue without it breaking, it is ready. During the last few chews, be gentle and don't place your teeth all the way together. This prevents the gum from getting holes.
Roll the gum into a small, cylinder shape with your tongue.
Press the gum against the back of your teeth with your tongue. This is similar to getting the gum ready to blow a bubble.
Open your mouth slowly; push the gum through your teeth and flatten the gum up around your upper front teeth.
Attach the lower section of the chewed gum to the back of your lower front teeth with your tongue. Keep your mouth open slightly, with the majority of the gum over your upper front teeth.
Suck in air through your mouth, which leads to a popping noise. Bring more gum down to the lower back section of the front teeth and suck in again. Keep repeating this method until the wad of gum is popped out.
Chew the gum quickly into a cylinder shape and begin the gum popping process again, repeating it until someone complains about the noise.