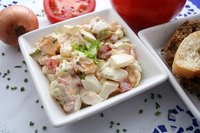 How to Eat Fat and Lose Weight With Dr. Atkins' Diet. Although low-fat diets are currently being touted as the best way to lose weight and prevent many chronic illnesses, fat consumption in the United States has actually declined during the past few decades, while obesity, heart disease and many chronic illnesses have been on the increase. Also, carbohydrate consumption - primarily of the refined variety - has increased. I believe fat is not the major culprit.
Things You'll Need
Get down to basics. The Atkins diet stresses fresh foods. It is not a high-fat diet.
Eliminate junk food. Some of the largest sources of fat in traditional diets are junk foods and convenience foods. On the Atkins diet, you may well end up eating less fat than you did before, even though you are eating a larger amount of meat, fish, fowl, eggs and butter.
Eat less. On a low-carbohydrate diet, you actually eat less than on a low-fat diet.
Read up on scientific studies. There is much scientific evidence to refute the claim that fat is the primary cause of heart disease, cancer and other chronic illnesses.
Indulge - eat butter, cream and the skin on the chicken.
Avoid hydrogenated fats. Hydrogenation occurs when vegetable oil is changed from a liquid to a solid. This changes the chemical bonds so that the fat is no longer healthy to eat. Margarine is a common example of a hydrogenated fat.
Avoid heating vegetable oils to high temperatures. This can alter their bonds.
Control your blood sugar. The basic Atkins diet program has been very helpful in stabilizing the blood sugar of diabetics.
Curb your cravings. Many people find that their food cravings come under control with the Atkins diet.
Explore the statistics. Saturated fat is supposed to be the bad guy right now. But statistics show that between 1910 and 1970, the proportion of butter consumption drastically decreased, from 18 pounds per person in 1910 to only 4 pounds per person in 1970. Consumption of margarine and other refined vegetable oils, which are polyunsaturated fats, rose 400 percent. Heart disease has increased drastically during this time.