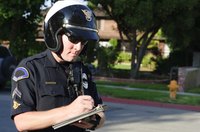 Although paying a fine is never fun, it may be unavoidable if you fail to register your car yet operate it on the public streets and highways of your state. Although state laws vary, it is a common practice for states to fine drivers who don't register the cars they operate in the state. Registration serves a valuable function, such as enabling state governments to track when a car has been stolen from its rightful owner or ensure cars operating on their roadways have met emissions and other safety standards. Consult your local department of motor vehicles to determine the vehicle registration requirements in your state.
After purchasing a car, you have a limited amount of time to register the vehicle with your local department of motor vehicles, or DMV. The amount of time you have varies by state. If you acquired a used vehicle from a private party, ensure the previous owner signs and dates the vehicle registration card in the proper place as proof of the vehicle's transfer.
Register your vehicle soon after you move to another state. This action informs the state of your new residency status and identifies any vehicles you will be operating in the state.
Adhere to your state's smog certification and emissions requirements. Many states require drivers to obtain a smog certification on a car prior to registering it. After completing an emissions test, you have a limited amount of days to register your car if the registration is about to expire. For example, in California, you must register your car within 90 days of receiving a smog certificate. If you do not register your vehicle within the allotted time after completing an emissions test, you may be required to complete a new one and risk being fined for not having a valid registration.
Renew your registration at your local DMV office on time. Many states offer the choice of renewing your vehicle registration online as well as in person or by mail.
Do not drive or park on public roads. If your car is not registered, you can avoid receiving a fine by keeping it parked in your driveway.
Go to court. If you get a ticket for not having current registration on your car, you may be able to avoid paying the fine by showing the court proof that you had a valid car registration prior to receiving the citation. If you receive a ticket for driving an unregistered vehicle that is not yours, a court may forgive the fee if you explain the situation. If you were, in fact, driving an unregistered vehicle that is yours, you may be able to avoid paying the fine by immediately registering your car afterward. Some courts will forgive the ticket, and clear it from your record, if you show a valid registration card and agree to complete approved driver safety courses.