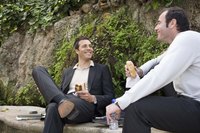 The need to be popular or part of a small and exclusive group does not necessarily dissipate when people leave school and join the workforce. As Patrick Fagan, a behavioral insights associate, writes in "Psychology Today," because people prefer those of their own clan or that which is familiar, prestigious jobs may go to workers of the same set as those doing the hiring. But there are ways managers and employees can deal with cliques at work, such as taking actions that support a positive team environment.
Foster Self-Esteem
It's not unusual for workers to form cliques based on age, marital status, gender, race or position. Consequently, clique-like behavior is a frequent workplace occurrence. It's the manager's responsibility to counter the negative effects of this behavior. He does so by reminding the clique's target to base her reaction to others' actions on positive self-esteem that reflects her qualifications and achievements rather than her exclusion from a workplace clique.
Don't Support Negativity
Cliques may lead to exclusionary behavior and conflict that can result in distrust between employees. As a result, one employee may withhold information, for example, and cause another employee to miss a deadline; this can negatively affect the company's operating results. To prevent this occurrence, management should avoid behaviors that might foster the negative aspects of cliques, such as exhibiting favoritism; instead, supervisors should promote the most qualified employee for a position.
Confront Clique Behaviors
Managers should confront negative clique behaviors as soon as they spot them. Doing so prevents the consistent enactment of exclusionary behaviors that can lead to dissension among the ranks. Such dissension can not only negatively affect productivity, but also lead to the loss of good employees. Negative clique behaviors even may increase the potential for workplace violence.
Promote a Positive Environment
Ensuring that employee assignments are based on employee skills and allowing every employee to make a positive contribution to group objectives promotes a positive team environment rather than the formation of cliques. In addition, assigning work to avoid slack time ensures each group member remains productive and eliminates opportunities to act on negative clique behaviors. Also important is that a manager exhibit zero tolerance for bullying behaviors and that she pair long-term employees with new hires to encourage a positive team environment.
Form a Professional Network
Employees who deal with cliques in the workplace should exhibit behaviors that contribute to their company's success, as well as their own professional achievements, rather than adopt behaviors to ensure popularity with a clique. For example, an employee should not focus on forming close relationships with one particular group but instead form an inclusive network of a variety of business partners with whom to collaborate, share diverse perspectives and accomplish company goals.
Evaluate Clique Power
Powerful people set strategy, determine a company's direction and, therefore, determine which employees will have productive careers. This realization can help an employee decide if there is any real benefit of joining a clique that may attempt to intimidate or gossip about other employees. The employee may decide his time is better spent participating in teams and forming relationships with co-workers more focused on accomplishing particular business goals.