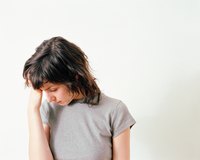 Life has challenges, but it is especially difficult when the things that happen tug at you all day. Being bothered by something that happened last week does little to help us move forward. By accepting that you're normal, practicing mindfulness, thought replacement and deep breathing, you can stop things from bothering you so much.
Self-Acceptance
Feeling uncomfortable because of your feelings can change a twinge of irritation into a full blown worry-fest. Some things, however, are supposed to bother us, including being bullied or being kicked out of a social group, say Laura Smart Richman and Mark R. Leary, researchers and authors of "Reactions to Discrimination, Stigmatization, Ostracism, and Other Forms of Interpersonal Rejection," published in Psychological Review in 2009. By knowing that twinge of discomfort you feel is a natural response, you will be more able to accept it for what it is, helping you to feel more accepting of yourself.
Mindfulness
Mindfulness -- the practice of accepting your thoughts, feelings and sensation without judgment -- is a useful tool to help things bother you less. Mindfulness practices have been shown to reduce cortisol, a stress hormone, notes researcher Jennifer Daubenmier (et.al.) in "It's Not What You Think, It's How You Relate To It," published in Psychoneuroendocrinology in 2014. If you want to be less bothered, try watching your thoughts instead of reacting to them. One technique is to picture each thought as a cloud floating by you. By accepting your thoughts, feelings and sensations, you can learn to be less bothered over time.
Thought Replacement
When you are bothered by something you typically have thoughts about it swimming through your head. Replacing those thoughts with a new one is another way of making them diminish and more manageable, according to researcher Ragnar P. Ólafsson in a study titled "Replacing Intrusive Thoughts," published in the Journal of Behavioral Therapy and Experimental Psychology in 2014. Figure out which thoughts you want to replace and choose a more positive one, for instance, replacing "No one likes me" with "I have some good friends." If those thoughts are about yourself, such as "I should be bothered; they are better than I am," replacing them consistently with "I am just as good as everyone else" will help your self-esteem, leading to more confidence and being less bothered by others in the long term.
Deep Breathing and Distraction
Taking a few deep breaths can help you to feel less bothered because it helps you calm down. Inhale for the count of four and exhale for the count of four. The counting may also help you to focus on something else. If you still feel upset, try other distractions, in addition to the breathing exercise. Take some breaths while you read a book, or take a walk to put your mind somewhere else. Avoid obsessing over the things that are bothering you. Over time, you will learn that you can move on to other things and will be less bothered when new thoughts come up.