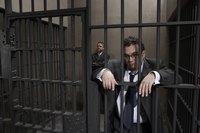 JPay allows customers to send funds to incarcerated loved ones or make community corrective payments like restitution, supervision fees and court costs. Its partnership with MoneyGram means payments can be arranged at more than 35,000 locations in the United States. Funds are usually sent within minutes and available to inmates in 24 hours.
Get the Right Code
Go to MoneyGram.com to find your nearest MoneyGram location. Bring the money you want to send, along with personal identification such as a driver's license. You'll then complete the ExpressPayment service form, including the receive code for the agency you're sending the funds to. If you're sending money to someone in prison, the agency code will typically be the facility where he is incarcerated. Your MoneyGram agent has a list of these codes if you need to look yours up.
Finish the Form
Write "JPay" as the company name in the space provided on the ExpressPayment form. You'll also need an account number, which is the inmate identification number and the last name with no spaces in between. When you hand the form and the funds to transfer to the MoneyGram agent, you'll receive a reference number. File that away in case there's a problem with the transaction later.