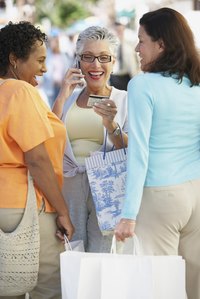 Visa gift cards are prepaid cards that you can use like a debit card. They give holders the freedom to use the money wherever Visa is accepted, unlike store gift cards. However, you might end up with a balance on the card that is not enough to cover any more desirable transactions. Fortunately, there are several ways to use that balance.
Check Your Balance
Check the balance before you attempt to make a payment with the card, especially if you haven't used it in a while. According to Bankrate.com, some issuers charge a monthly service fee for the card. The fees could be as much as $10, which could wipe out your balance in a short amount of time. You may check your card online after registering it with the issuer, or at a retail store through its point of sale system.
Make a Payment
If the cost of the transaction exceeds the amount on the card, ask the retailer if you can take care of the balance with another form of payment, like cash, check or credit card. Visa allows this split-tender. It also allows the retailer to access Visa's database through the point of sale system. That's useful if you still need to check the balance on your card.
Consolidate
You can combine your gift card with another. Some online retailers allow you to buy electronic gift cards for their store and then add any amount of your choice to it with a credit or debit card. You can do this with your prepaid Visa gift card, which works like a debit card. If you have an Amazon gift card, for instance, you could reload it with the balance on your Visa gift card. Walmart offers a similar program.
Buy Then Sell
Various online companies buy gift cards or provide a platform for members to buy from and sell the cards to each other. Buyers only pay a percentage of the value of the card and there might be a fee if you sell through a company that is facilitating the transaction. This option is most useful if the balance is considerable.