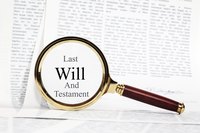 After going through divorce, you likely want to make sure that your ex-spouse does not receive any benefits from your estate when you die. By taking the proper steps, you can ensure that your former spouse will not receive any more of your money or assets than what was decided upon in the divorce settlement. Using trusts and changing beneficiaries on important accounts is essential.
Update your will to remove your spouse as a recipient of any property. Specify that your valuable assets should go to other people you have named, such as your children or your parents.
Change the beneficiary on your life insurance policies. Many married couples list their spouse as the primary beneficiary. When you divorce, change the beneficiary to one of your children or another family member whom you wish to receive the lump-sum payment when you die.
Name a new beneficiary on your retirement accounts and other payable-on-death accounts that you have. These assets do not go through probate court and can be transferred automatically to the person you name. To change the beneficiary, request a form from your account provider. Fill out the form, change the name of the beneficiary, and return it.
Set up a trust with an estate planning attorney to hold your assets. That will legally shift your assets from your estate into the ownership of the trust. When you die, the assets can be passed on to beneficiaries you have named. For example, if you wanted to ensure that the children from your first marriage receive assets even if you get remarried, a trust will accomplish this goal. If you use an irrevocable trust, you protect the assets from creditors, and you help your beneficiaries avoid paying estate taxes as well.