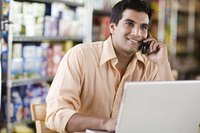 When you make a sale to a customer or perform a service for a client, receiving an on-time payment is crucial for your cash flow. But if the client is slow to pay, politely ask for a payment. Hopefully, a gentle reminder will be the only contact necessary to receive your money. Call, email or write a brief letter to remind a customer or client about the debt, keeping the request cordial to maintain a friendly exchange.
Request in Writing
Write a business letter that includes your company's name, contact information and date at the top.
Add a subject line with the client's account number and invoice number, if applicable. If there are no reference numbers, write: "Please remit payment."
Address the letter to the client using the appropriate title and the client's name. For example, begin your letter with "Dear Ms. Cooper."
Create a short paragraph to ask for payment. For example, write: "Thank you for your recent business. The payment for your order was due on March 20, and the payment is now past due. If you have already made this payment, thank you very much. If you have not yet paid the balance due, we would appreciate payment before April 30. If you do not remit payment before this date, your account may enter a delinquent status."
Close the letter with a brief, "Thank you for your prompt payment." Add a closing such as "Sincerely"; sign your name.
Enclose a copy of the invoice or account summary.
Call
Call the person responsible for payment. Identify yourself, and ask how the customer is. Once the pleasantries have ended, state that you are calling about a past-due payment. Have the invoice and payment history in front of you to provide details about the services performed and amount due.

Ask if the payment has been sent. If the client says it has been, thank him for his payment. If not, ask if there is a problem. Listen to his response. Use active listening to recap what he has told you. Try this: "So you have been on vacation and have not made the payment? I understand. When can I expect the payment?"
Gain his commitment on when and how he will make the payment. Offer to take a credit card, debit or check by phone immediately. If he hedges or questions the invoice, offer to fax or email it immediately.
Thank him for his business. Ask if you can help him with anything else.