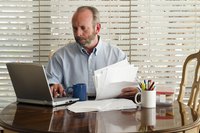 Most of us learn early in life that an apology can go a long way toward soothing a relationship. It also can be a thoughtful, gracious gesture in business, especially when you're submitting a payment that is overdue. Follow the tenets of effective, face-to-face apologies when writing your letter: keep it brief, don't over-explain the error of your ways, pledge to do better in the future and above all, be sincere.
Consider addressing your letter to the head of the accounts payable department by name, rather than "to whom it may concern." This one small step will show that you are earnest and that the person ought to take you seriously, too.
Grip your reader right from the beginning: Say that you are enclosing a late payment and specify the amount. Apologize for the delay and express your regret at any inconvenience the delay might have caused.
Navigate the trickiest part of the apology letter with grace. If this delay was a first-time occurrence, say so; if not, avoid the topic. Either way, reassure the recipient that you are taking responsible steps to ensure you will not be late with future payments. Avoid launching into a long-winded story about why your payment was late; remember that accounts payable professionals probably have heard every story there is. At the same time, don't say that you will "never again" submit a late payment. Avoiding absolute statements now could save you embarrassment later.
Thank the recipient for his or her continued goodwill. You might wish to add that you value your business relationship and look forward to continuing it long into the future.
Proofread your letter carefully before sending it. A typo — saying "last" payment instead of "late" payment, for example – could trigger anything from amusement to confusion. Don't take the risk.