By default, Windows 7 displays a User Account Control warning every time you try to install a program or when programs modify your system settings, prompting a frequent need for an administrator's account. Microsoft created this system to limit accidental malware installation and to stop malware from silently altering system settings, but in practice UAC often gets in the way if you're confident working on your PC and you frequently add and remove programs. If you have one of the business-targeted editions of Windows 7, you can turn off UAC's warnings for administrators only, but the home editions don't provide this option. Regardless of edition, you can't toggle UAC on a user-by-user basis, so turn it off only if you trust everyone who uses your computer.
(Image courtesy of Microsoft)
Step 1
Search for and open the "User Accounts" Control Panel using the Start menu.
Image courtesy of Microsoft
Step 2
Click "Change User Account Control Settings" and press "Continue" on the UAC warning if one appears. The selected user account doesn't matter, because the option applies to all accounts, but you'll need to provide an administrator's password if you aren't using an admin account.
Image courtesy of Microsoft
Step 3
Slide the bar down to "Never Notify" to completely disable UAC. The default setting displays a warning when a program attempts to modify system settings or install, whereas the intermediate option behaves the same but without dimming the screen around the warning. On the top setting, UAC displays a warning after every setting change. After making a change, click "OK" -- press "Continue" on the warning, if necessary -- and reboot your computer.
Image courtesy of Microsoft
Step 1
Log in to an administrator's account, press "Windows-R" and run "secpol.msc" to load the Local Security Policy Editor. Only the Professional, Enterprise and Ultimate editions of Windows 7 include the Editor.
Image courtesy of Microsoft
Step 2
Open "Local Policies" and select "Security Options." Double-click on the policy titled "User Account Control: Behavior of the elevation prompt for administrators in Admin Approval Mode."
Image courtesy of Microsoft
Step 3
Switch the setting to "Elevate Without Prompting" to stop showing UAC warnings to administrators without altering the User Accounts Control Panel setting for non-administrators. The other options for this policy disable UAC prompts in some, but not all, situations -- check the "Explain" tab for detailed notes on the effects of each option. Press "OK" and reboot to apply the change.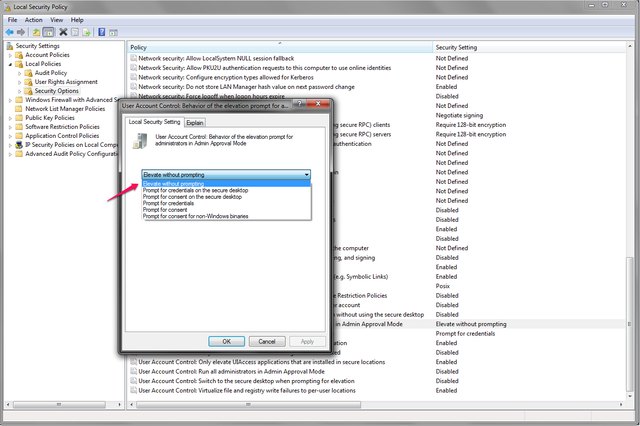 Image courtesy of Microsoft
Tips & Warnings
On Windows Vista, UAC launched constant pop-ups when users changed system options, leading many people to turn it off entirely. Microsoft toned down the systems alerts for Windows 7, so if you've recently moved up from Vista, you might find that you no longer need to turn off UAC.
Microsoft warns against disabling UAC, as it provides a layer of defense against security threats. If you share a computer with others who don't have administrator accounts, it's worth listening to Microsoft's suggestion: UAC does help to block malware. On the other hand, if you're an administrator and the only user on your PC, turning off UAC won't make your system more vulnerable compared to clicking "Continue" on every UAC prompt. Whether you leave UAC on or off, stay vigilant about installing unfamiliar programs you find online -- avoiding malware entirely keeps your computer safer than any security system.
Promoted By Zergnet