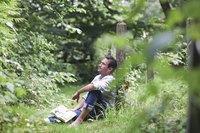 Everyone has encountered a mellow and laid-back person -- one of those calm individuals who seems untroubled by whatever life is throwing at her. Whether by nature or by nurture, some people just seem more inclined to laid-back reactions than others. However, no matter what your temperament, certain habits can boost your resilience to both external and internal stresses -- and help you uncover a new side of yourself.
Raise Your Stress Defense
Exercise seems to help the brain fend off the impact of stressful situations, suggests the American Psychological Association in "Exercise Fuels the Brain's Stress Buffers." Therefore, replacing sedentary habits with daily exercise might help you keep your cool. You don't have to force yourself to go to the gym each day. Choose a routine that you genuinely enjoy. For example, ride your bike more often, invite your friends to play a friendly game of tennis or take a yoga class.
Breathe In, Breathe Out
Notice your physical reaction when you're in a stressful situation. You will likely discover that your breathing is quick and shallow in the middle of an argument, or your heart rate increases when you're anxiously waiting for a tow truck to arrive and move your stubborn car. By practicing diaphragmatic breathing, you can alter both of these physical reactions and calm yourself on command, suggests psychologist Jamie Long in the "Psychology Today" article, "5 Quick Tips to Reduce Stress and Stop Anxiety." Take slow, deep breaths from your diaphragm until you feel yourself begin to mellow out.
Practice Acceptance
Many people waste time dwelling on problems beyond their control. Escape this mental trap by identifying situations you can and cannot change, suggests Margarita Tartakovsky, associate editor for PsychCentral, in the article "20 Ways to Relax and Unwind." When you're sitting in a traffic jam and late for a meeting, pose a question to your rising frustrations: "Is there anything I can do right now? Or do I have to accept the situation?" This helps you cut down on unnecessary worries and fears, and gives you more time to devote to boosting your mood. In this case, turn up the radio and sing along until traffic clears.
Have Some Fun
A playful attitude is essential to mellowing out. It allows you to take a break from taking yourself and the world around you so seriously. When looking for playful activities, look for hobbies that aren't particularly productive, but are especially fun, suggests Tartakovsky. Play a video game, dance to your favorite song, open up a comic book. Don't worrying about acting your age; let the kid in you have a little fun.