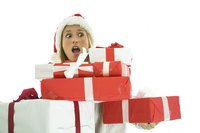 All USPS flat rate mailers are priority or priority express mail. This means they will be delivered in one to three days depending on the service you choose. To receive the flat rate fee you must place your items in an USPS flat rate box or envelope. You can order these supplies free at USPS.com or pick them up at any post office.
Choose Size and Type
Navigate to the Postage Price Calculator page on the USPS website and choose the smallest size box or envelope that your item will fit in. A bulge is acceptable as long as it seals completely using the adhesive strip provided. Choose the padded envelope or slightly larger box to pad your item if it is fragile. As of publication, the least expensive priority flat rate envelopes are $5.75 and range in size from 5" x 10" up to 12-1/2" x 9-1/2". Boxes range from $5.90 for an 8-5/8" x 5-3/8" x 1-5/8" to $17.90 for and 23-11/16" x 11-3/4" x 3" or 12" x 12" x 5-1/2". Note that the larger box has a special military rate of $15.90 to APO/FPO/DPO. You can save money by buying shipping labels on the USPS website. For example, the large box is $15.80 instead of $17.90 when purchased on the Internet and you can schedule pickup at your home or office. When you need your item delivered the next day, choose Priority express. Envelopes are $19.99 for 12-1/2" x 9-1/2" and flat rate boxes are $44.95 for 13-5/8" x 11-7/8" x 3-3/8" or 11" x 8-1/2" x 5-1/2".
Weight and Distance
Flat rate fees are valid for up to 70 pounds. There is no need to weigh your package or envelope to calculate your cost when under 70 pounds. Distance is not a factor in flat rate fees. They can ship to any domestic or military address without added cost.
Insurance and Delivery Confirmation
Priority mail includes $50 of insurance. Priority express includes $100 of insurance. You can pay to increase the insurance for more valuable items up to $5,000. Printed labels that contain a bar-code include delivery confirmation. The post office only reimburses your claim for the actual value, less depreciation, of the item damaged or lost.