Your medial collateral ligament -- or MCL -- is located along the inside of your femur -- thigh bone. Your MCL runs down the side of your knee and connects to your tibia -- shin bone. Your MCL functions to prevent your knee from buckling under stress. A bruise to your MCL can occur as the result of a direct blow to the inside of your knee or as the result of an abnormal twisting or movement of your knee. This may also be referred to a contusion.
Step 1
Recall an instance of injury. If you bruised your MCL, you will likely be able to recall when your injury occurred. You may remember following, colliding with another athlete or a sudden, twisting of your knee joint.
Step 2
Take note of the location of your pain. A bruised MCL will cause pain and tenderness along the inside of your knee.
Step 3
Look for bruising and swelling. A contusion crushes your muscle fibers and connective tissues without causing damage to your skin. Your skin may turn a blue-ish, purple color as the result of blood pooling underneath your skin. Swelling may also occur along the inside of your knee.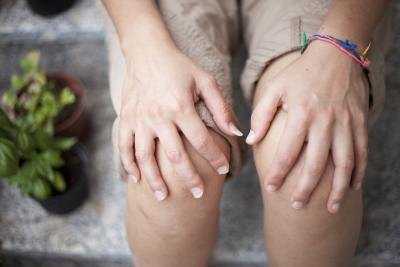 Step 4
Visit with your doctor. MCL bruises are usually nothing serious. However, bruises may be an indicator of a more severe injury. Bone fractures, knee dislocations, sprains and ligament damage can also occur to your knee and MCL. If pain from your MCL bruise persists for more than a few days, visit your doctor for a diagnosis.