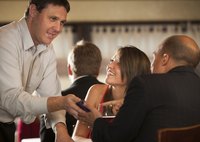 Restaurants can be a challenging industry to find success in. According to the National Restaurant Association, about 30 percent of restaurants fail in the first year. To ensure the success of your restaurant business, it is critical to keep old customers coming back and new customers coming in to check you out. However, once you get the customer through the door, there is a lot to do to keep them there.
Consistency in Experience
Keeping the experience in your restaurant consistently good not only keeps old customers returning but can foster new customers as well. If your restaurant is known to have quality food and service, word-of-mouth advertising can help encourage new guests. Managers can help to ensure the food and service is consistent by randomly checking on food as it leaves the kitchen, speaking to guests and monitoring the front of the house staff.
Utilizing the Chef
Creating a relationship between the customer and the chef can help create a personal connection and trust in your restaurant that leads to repeat customers. Have the chef circulate through the dining room several times a night to meet with customers and survey their satisfaction in the food. Be sure there is sufficient staffing in the kitchen while the chef is checking in with guests. Managers can often temporarily take the place of a chef in the kitchen to make sure it is still running smoothly.
Events and Promotions
Special events can help encourage new customers to check out your restaurant. For example, hiring a live band or singer to perform at your restaurant can generate buzz and bring new customers in. While customers are enjoying the music, they're likely to order food, and if impressed, they're likely to return on regular nights.
Special Discounts
Many people shy away from trying a new restaurant, worried it may be too expensive, or they won't like the food and will end up wasting money. Offering discounts and specially-priced menu items can entice these people into becoming first time customers. For example, "kids eat free" nights are popular for fostering a family following. Kids meals are typically low-cost and are usually accompanied by higher-priced adult meals, minimizing the financial impact of the special. Creating a special prix fixe menu -- a single appetizer, entree and dessert combination offered at a set price -- can encourage guests to come in as well.
Customer Complaints
Food can be a subjective business. Even if you're doing the best you can as far as quality, service and guest experience, there will still be occasional customer complaints. If the customer complains in person, fix the problem immediately by having food recooked, offering coupons for a later visit or even giving the customer a free meal. For negative online reviews, many review sites allow the business owner to visibly reply to the complaint. This shows guests reading the reviews that you care what your customers think, take pride in your product and are working to better the guest experience. Likewise, if a guest complains directly on the company social media page, reply directly to the comment. Keep all replies positive, respectful of the guest's opinion and focused on a solution.